Allow us to share our expertise
Give yourself the promise of protection through proaction. It's hard to know where to turn and where to find the right advice. With over 23 years' experience as a lawyer, including 19 years of combined governance and regulatory experience we can advise you how to navigate the maze of contentious regulatory and compliance issues, uphold your integrity and improve your role as a governance professional, director or officer. We advise on: Strategic and business advice – ethical, transparent and fit for purpose Reputational risk – identify, evaluate, treat, calibrate and mitigate Culture – align strategy to values and attitudes to achieve business objectives in a compliant way Directors & Officers' duties – know how to avoid conflicts of interest, know when to hold management to account, know when to seek advice, know how to discharge your duties and minimise the risk of regulatory action or civil or criminal litigation Whistle-blower – compliant with amendments to the Corporations Act? What processes do you have in place? Policies, Processes, Systems, Procedures – from the top down you need visibility to encourage performance and discourage cutting corners Minutes – do they have to be mix of narrative v resolution? What is the purpose of minutes? What's in and what's out on the back of the Hayne Royal Commission recommendations? Are your minutes compliant? Are they discoverable by regulators or in litigation? Meeting practice and procedure – ensure agendas are accurate, business matters are correctly tabled and resolved and procedural irregularities don't impede due process. Garth has in-depth experience in ASIC regulatory and investigation proceedings.
Fountain-Smith Governance Lawyers advises on regulatory and legal compliance, financial services, corporations law, corporate governance, directors' duties, shareholder issues and employment law. We assist companies, directors, officers and employees to mitigate risk and advise on due diligence defences. The Hayne Royal Commission recommendations: tougher penalties under the Corporations Act 2001 (Cth) and ASIC's mandate "Why not litigate" – compelling reasons to engage Fountain-Smith Governance Lawyers for evidence based outcomes in the discharge of your duties.
We speak with experience from the board table.
Good Governance is:
→ Empowering
→ Inclusive
→ Influential
→ Protective
→ Challenging
→ Policy and Process
→ Proactive
→ Responsive
→ Collaborative
→ Best Practice
→ Supportive
→ Ethical
→ Transparent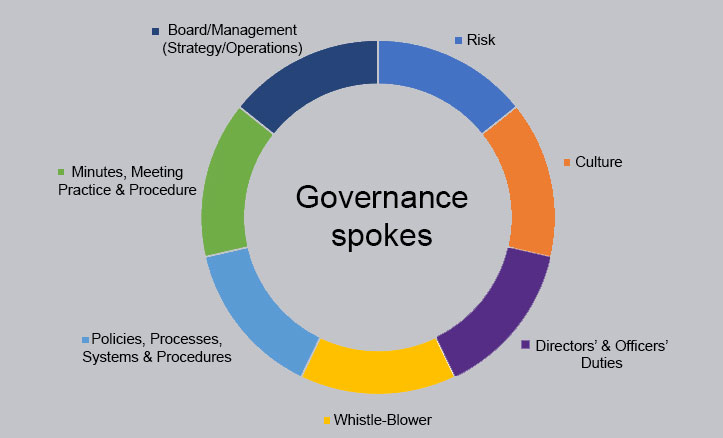 If one of these spokes break, the hub between board and management can fracture giving rise to a breach of statutory, fiduciary or common law duties.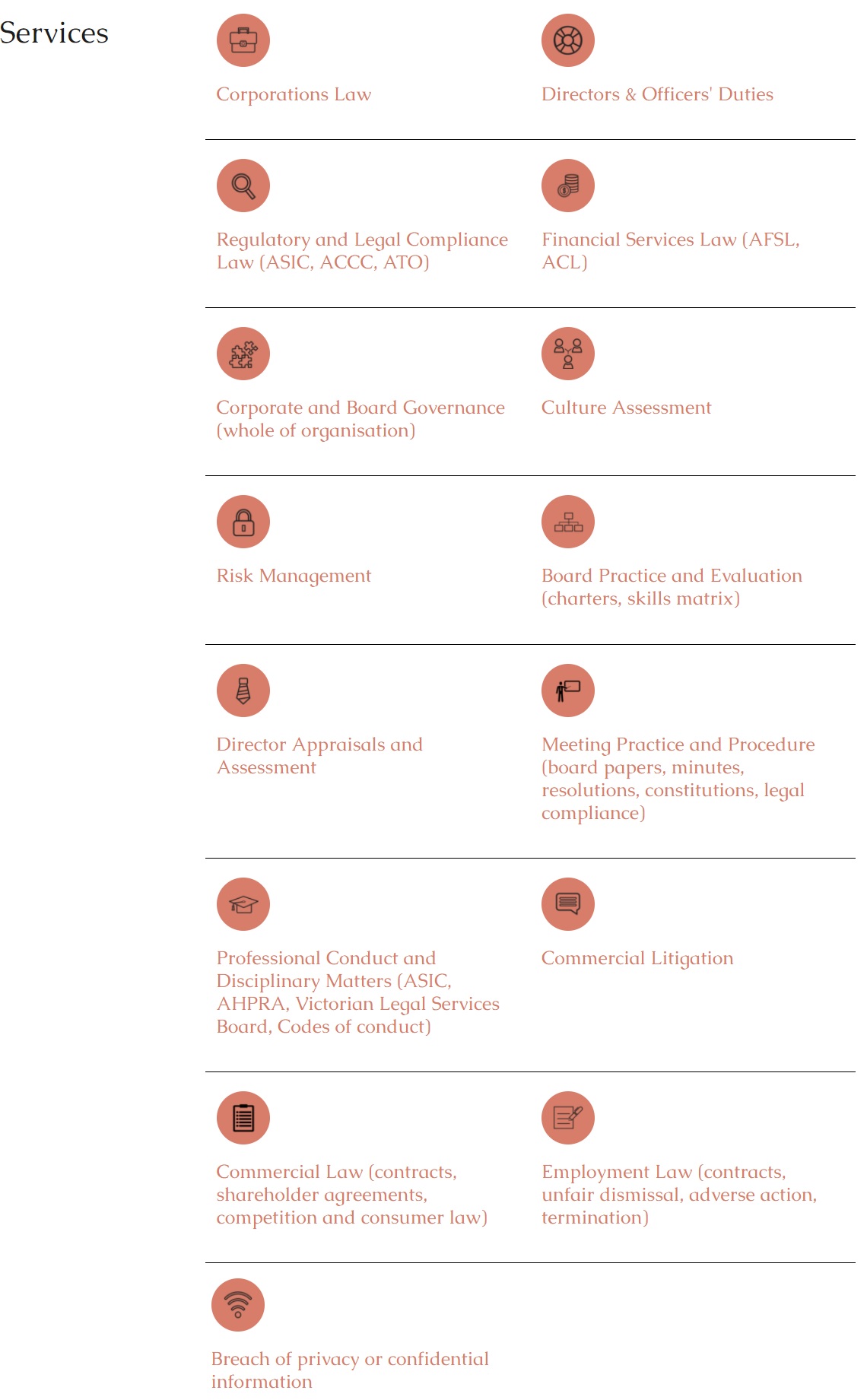 If you are looking for a safe harbour